Christine Gross-Loh

@grossloh

Author, writer. THE PATH: What Chinese Philosophers Can Teach Us About the Good Life. Bylines: @theatlantic, @wsj, @guardian, @nytimeswell @voxdotcom
Did you miss Christone Gross-Loh on today's show?
Listen here!
Christine Gross-Loh is a freelance journalist and author. Her writing has appeared in a number of publications including The Wall Street Journal, The Atlantic, and the Huffington Post. She has a PhD from Harvard University in East Asian history.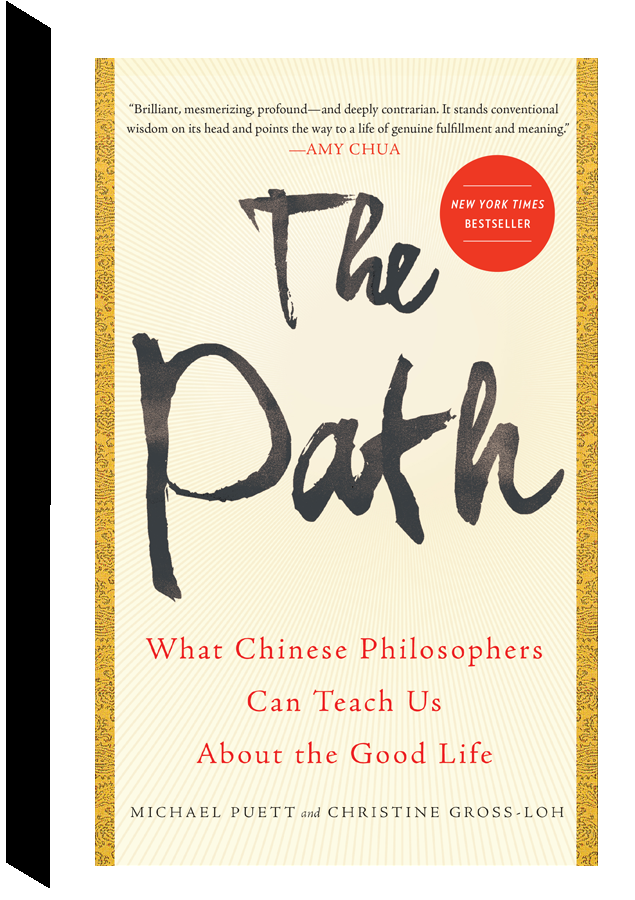 Praise for THE PATH:


"Puett's dynamism translates well from his classroom theater onto the page, and his provocative, radical re-envisioning of everyday living through Chinese philosophy opens wide the "possibilities for thinking afresh about ourselves and about our future." His text presents creative alternatives to the stale "confines of our narrative." With philosophical consideration, our methods of interacting and coexisting may, as the author promises, have the power to better our lives and our relationships. With its academic tone and spirited, convincing vision, revolutionary new insights can be gleaned from this book on how to approach life's multifarious situations with both heart and head."

—Kirkus Reviews


"[Michael Puett and Christine Gross-Loh's] accessible, conversational style introduces anyone with interest to what Chinese sages suggested about giving meaning to our days. Even more impressive, they inspire interest."

—Huffington Post


"The Path illuminates a little-known spiritual and intellectual landscape: the rich body of Chinese thought that, starting more than two millennia ago, charted new approaches to living a meaningful life. But Puett goes a lot further, creatively applying this ancient thought to the dilemmas of modern life. The result is a fresh recipe for harnessing our natural energies and emotions to strengthen social connection and build islands of order amid the chaos that sometimes surrounds us."

—Robert Wright, author of The Evolution of God


"I read The Path in one sitting and have been talking about it to everyone. It's brilliant, mesmerizing, profound—and deeply contrarian. It stands conventional wisdom on its head and points the way to a life of genuine fulfillment and meaning."

—Amy Chua, Yale Law professor and author of Battle Hymn of the Tiger Mother


"This is a book that turns the notion of help—and the self, for that matter—on its head. Puett and Gross-Loh bring seemingly esoteric concepts down to Earth, where we can see them more clearly. The result is a philosophy book grounded in the here and now, and brimming with nuggets of insight. No fortune-cookie this, The Path serves up a buffet of meaty life lessons. I found myself reading and re-reading sections, letting the wisdom steep like a good cup of tea."

—Eric Weiner, author of The Geography of Bliss and The Geography of Genius

Each fall, Harvard professor Michael Puett begins his freshman survey of Chinese Philosophy with a promise – if you take the ideas in these texts seriously, they will change your life. Confucius's Analects, the Dao de jing, the writings of Mencius: Ancient texts handed down over millennia in a land more than 7000 miles away. These texts, you ask, will change my life? Many students, even those bound for Wall Street, say the class has done just that. And we have one better: we suspect they may change yours, too.

In his inspiring book THE PATH: What Chinese Philosophers Can Teach Us about the Good Life, written with Christine Gross-Loh, Puett brings these texts out of the University and into the world, encouraging us to put aside traditional Western ideas about "the good life" and to engage with the philosophies of key Chinese thinkers.

A course the administration thought would barely draw 100 students has, in nine years, inspired such an overflow of requests to attend that it was forced to move to the majestic Sanders Theater – the biggest room on campus – where 700 students now crowd into that hall every semester for Puett's legendary seminar, "Classical Chinese Ethical and Political Theory." It is Harvard's third most popular class after "Computer Science" and "The Principles of Economics." And life-changing indeed have these ideas been. For students pressured to push ahead with big pre-set goals and achieve individual excellence, this ancient way of thinking about life seems to them nothing less than revelatory – and a huge relief.

But of course it isn't only students who feel this pressure to succeed; it's every one of us. And while our culture rewards ambition, that ambition often leaves us wanting for happiness, for peace, and for reassurance. So for Westerners, to say nothing of Harvard students, when these are ideas are put into practice they may even seem almost subversive.

According to the wisdom of the sages in THE PATH, in making subtle adjustments to way we move through our day, the most dramatic changes can – and will – occur. By engaging with these texts, we can make profound shifts in our thinking, not only about what we can control, but about what success and happiness really are; we can stop thinking about what we'd like to become, and focus more on how we want to be.


Michael Puett is the Walter C. Klein Professor of Chinese History in the Department of East Asian Languages and Civilizations and Chair of the Committee on the Study of Religion at Harvard University. He is the recipient of a Harvard College Professorship for excellence in undergraduate teaching.